./postgresql-9.6.0-beta4-linux-x64.run --help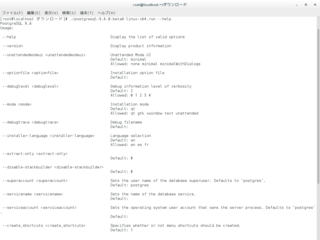 [root@localhost ダウンロード]# ./postgresql-9.6.0-beta4-linux-x64.run --help
PostgreSQL 9.6
Usage:
--help Display the list of valid options
--version Display product information
--unattendedmodeui <unattendedmodeui> Unattended Mode UI
Default: minimal
Allowed: none minimal minimalWithDialogs
--optionfile <optionfile> Installation option file
Default:
--debuglevel <debuglevel> Debug information level of verbosity
Default: 2
Allowed: 0 1 2 3 4
--mode <mode> Installation mode
Default: qt
Allowed: qt gtk xwindow text unattended
--debugtrace <debugtrace> Debug filename
Default:
--installer-language <installer-language> Language selection
Default: en
Allowed: en es fr
--extract-only <extract-only>
Default: 0
--disable-stackbuilder <disable-stackbuilder>
Default: 0
--superaccount <superaccount> Sets the user name of the database superuser. Defaults to 'postgres'.
Default: postgres
--servicename <servicename> Sets the name of the database service.
Default:
--serviceaccount <serviceaccount> Sets the operating system user account that owns the server process. Defaults to 'postgres'.
Default:
--create_shortcuts <create_shortcuts> Specifies whether or not menu shortcuts should be created.
Default: 1
--prefix <prefix> Installation Directory
Default: /opt/PostgreSQL/9.6
--datadir <datadir> Data Directory
Default: /opt/PostgreSQL/9.6/data
--superpassword <superpassword> Password
Default:
--serverport <serverport> Port
Default: 5432
--locale <locale> Locale
Default:
[root@localhost ダウンロード]#
---
Windows版には、--helpが、ないようです。