The version of iOS on "ShigenariのiPod touch" is not supported by this installation of the iOS SDK. Please restore the device to a version of the OS listed below, or update to the latest version of the iOS SDK; which is available here.
OS Installed on ShigenariのiPod touch
7.1 (11D167)
Xcode Supported iOS Versions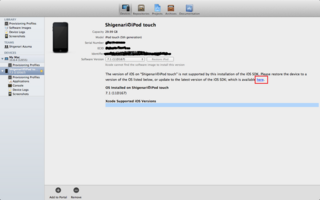 バージョンが違う?
XcodeのOrganizerで
use for development という表示(ボタン)がない?